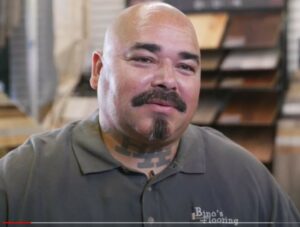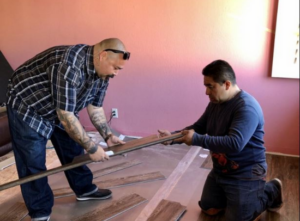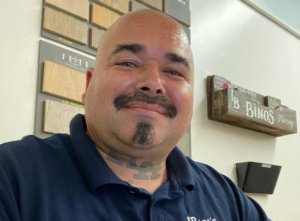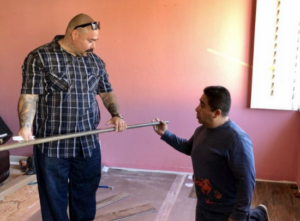 Albino Jose Garcia
Bino's Flooring
A suitable flooring surface in any space, whether commercial or residential, makes all the difference in its look and feel. That's why Albino "Bino" Garcia knows his business has an unlimited potential daily to attract customers seeking those products and services. SER NEGOCIOS is helping Bino be the company of choice in his region of Southern California by assisting him with training, resources, and new contacts that will significantly improve his outlook for the future.
"SER NEGOCIOS came into my life when our company needed them most," says Garcia. "They provided me with financial assistance to renew my business license. Also, SER NEGOCIOS recognized that I needed to have a place from which to operate my company and helped me with rent. Plus, their team gave me an important hand in applying for a grant. Each of these alone is a critical make-it or break-it necessity, but all three are a lifesaver for my small business."
Start-up businesses often begin without a business license, working from home and using a personal checking account. SER NEGOCIOS is helping companies like Bino's Flooring make an essential transition early on. The reason? These practices of working "informally" can create complications when the business is trying to get a loan or acquire new, larger contracts. Lenders and customers want to see the company's history, and without the needed documents, Latino entrepreneurs may find themselves stuck doing smaller jobs or sales. The lesson SER NEGOCIOS teaches is that shortcuts at the start may mean long wait times later, and those can be costly to a small business.
"When you're in business for yourself and have people working with or for you, things can be tough," says Garcia. "It's not always steady work, and as we're finishing one job, I'm already looking for the next one. This is where promoting my business is a challenge. Advertising takes time and money to do, and both are something I don't have a lot of when I am also installing floors and going back and forth getting materials and quoting for new jobs. SER NEGOCIOS is teaching me how to do this part of my company better to be more successful. This training will go a long way to save me time and money and speed up my growth."
SER NEGOCIOS teaches small business owners that marketing their enterprise is a regular part of their life with every person they meet and with whom they speak. The so-called elevator speech, or brief description of who they are, what they offer, and why their company is worth a look, can be an invaluable asset to learn and use. With practice, Bino is becoming more comfortable using his elevator speech and talking up his business wherever he goes. Still, the demands of his company today are never far away.
"This is not a 9 to 5 job," he says. "If I want the jobs to come in, I have to advertise and constantly be pushing my company name out there. The competition is endless, and we must hustle, move, sell, work, and use every day to make things happen. It's like having two or three jobs at once. What SER NEGOCIOS is helping me communicate in all my contacts is what makes me better. They are assisting me so that I focus on making sure customers can contact me directly, and they can work with me one-on-one, anytime. SER NEGOCIOS is like having my backup team."
SER NEGOCIOS is also assisting Garcia with his time management skills, encouraging technology to work more effectively and efficiently, and keeping his "green time" during those daytime business hours open for revenue-generating. "Now, I am much more conscious of using after hours to do consultations and prepare estimates. Customers like that too because they enjoy the personal touch and know that the company's owner is going to be directly involved. To me, this is just part of the responsibility of having my own company. I would say to others who are thinking of starting their own small company to understand that there is the advantage of flexibility in your hours. Still, as I am learning in my SER NEGOCIOS workshops and networking, we are always on the clock if we want to see our business grow and thrive. After all, this is why we became entrepreneurs to pursue our dream, so why stop here? We can be more successful if we are willing to put all of ourselves into what we do. Thank you, SER NEGOCIOS, for opening the door wide to my future and helping me build from the ground floor!"