Work-Based Training Program for Older Americans
Since July 2003, SER National has been funded by the U.S. Department of Labor (DOL) to operate the Senior Community Service Employment Program (SCSEP), focusing on mature workers' training and employment needs. SER serves over 3,000 participants in over 225 counties in California, Colorado, Kansas, Missouri, Texas, and Wisconsin.
PARTICIPANTS – SCSEP is a community service and work-based training program for older workers. Authorized by the Older Americans Act, the program provides subsidized, service-based training for low-income (not more than 125% of the established federal poverty guidelines) persons at least 55 years of age who are unemployed and have poor employment prospects. Participants in the SER SCSEP come from all walks of life, have diverse work experiences, and possess various levels of education.
HOST AGENCIES – SER partners with host agencies (local non-profit organizations 501(c)(3) and government agencies) to provide participants with training opportunities to update their skills. SER SCSEP has successfully placed individuals in full and part-time jobs that benefit them economically and socially. SER SCSEP participants can add to your productivity level. Become a SCSEP partner.
EMPLOYERS – SCSEP works each year across the country with more than 100,000 low-income workers age 55 or older. We help them gain and perfect the job skills you need from your employees. Our trained workers provide: Experienced = added value, Qualified = skilled labor, Responsible = work ethic, Talented = diverse abilities.  We can provide your business with the employees you need to be competitive, resulting in a positive impact on your business. Think of SCSEP as an employment agency: providing a pool of candidates for a wide variety of jobs; saves on your training expenses by paying workers for training; understands your business and employment needs.
SER SCSEP Offices (with Counties Served)
CALIFORNIA
BAKERSFIELD
Counties: Inyo & Kern
Address:
1522 18th St. #204
Bakersfield, CA 93301
661-869-2363 office
661-869-1968 fax
CHULA VISTA
County: San Diego (South)
Address:
1111 Bay Blvd. Suite E
Chula Vista, CA 91911
619-628-0352 or 0362 office
619-575-7460 fax
EL CENTRO
County: Imperial
Address:
155 W. Main Street, #2
El Centro, CA 92243
760-592-4281 office
760-592-4345 fax
FRESNO
Counties: Madera & Mariposa
Address:
255 N. Fulton #106
Fresno, CA 93701
559-452-0881 office
559-803-6154 fax
MORENO VALLEY
County: Riverside
Address:
13800 Heacock St., # D135A
Moreno Valley, CA 92553
951-208-7314 or 7316 office
951-905-1300 fax
ROSEVILLE
Counties: Mono & Placer
Address:
115 Ascot Dr. Suite #100
Roseville, CA 95661
916-773-8540 Ext# 113
SANTA ANA
County: Orange
Address:
801 W. Civic Center Dr., Ste. 200
Santa Ana, CA 92701
714-565-2644 or 2660 office
714-565-2601 fax
STOCKTON
Counties: Amador, Calaveras, San Joaquin, Stanislaus, & Tuolumne
Address:
6221 West Lane, Suite #105
Stockton, CA 95210
209-948-7893 or 941-1905 office
209-941-1935 fax
KANSAS
DODGE CITY
Counties: Cheyenne, Decatur, Edwards, Ellis, Finney, Ford, Gove, Graham, Grant, Haskell, Kearny, Logan, Meade, Morton, Ness, Norton, Osborne, Pawnee, Phillips, Rawlins, Rooks, Rush, Russell, Seward, Sherman, Smith, Stevens, & Thomas
Address:
236 San Jose Dr., Suite 130
Dodge City, KS 67801
620-225-4149 office
888-682-4068 fax
KANSAS CITY
Counties: Johnson, Leavenworth, & Wyandotte
Address:
650 Minnesota Avenue
Kansas City, KS 66101
913-942-1167 office
888-266-8430 fax
PITTSBURG
Counties: Allen, Anderson, Bourbon, Cherokee, Coffey, Crawford, Elk, Franklin, Greenwood, Labette, Linn, Miami, Montgomery, Neosho, Wilson, & Woodson
Address:
103 W. 11th Street
Pittsburg, KS 66762
620-668-1049 office
888-561-6946 fax
TOPEKA
Counties: Atchison, Brown, Clay, Cloud, Doniphan, Douglas, Geary, Jackson, Jefferson, Jewell, Lincoln, Marshall, Mitchell, Nemaha, Osage, Ottawa, Pottawatomie, Republic, Riley, Shawnee, Wabaunsee, & Washington
Address:
5942 SW 29th St. Ste. 250
Topeka, KS 66614
785-246-6761 office
888-718-7609 fax
WICHITA
Counties: Barton, Dickinson, Ellsworth, Lyon, Marion, McPherson, Morris, Pratt, Reno, Rice, Saline, Sedgwick, & Stafford
Address:
2312 W Pawnee # 102
Wichita, KS 67213
316-444-1332 office
888-579-9836 fax
TEXAS
-BEAUMONT
Counties: Chambers, Galveston, & Jefferson
Address:
700 North Street Suite B2
Beaumont, TX 77701
409-833-1860 office
888-329-3415 fax
FORT WORTH
Counties: Hill, Johnson, & Tarrant
Address:
2100 N Main Suite #10
Fort Worth, TX 76164
817-536-3600 office
888-608-0026 fax
HOUSTON
County: Harris
Address:
2525 A San Jacinto # 206
Houston, TX 77002
346-330-9931 office
888-259-4545 fax
TEXAS CITY
County: Galveston
Address:
2000 Texas Avenue, Suite 200
Texas City, TX 77590
409-207-5900 office
866-301-7268 fax
COLORADO
DENVER
Counties: Adams, Arapahoe, Boulder, Broomfield, Denver, Douglas, Elbert, Jefferson, & Summit
Address:
7220 W Jefferson Ave., Suite 123
Lakewood, CO 80235
303-284-1363 office
888-293-3417 fax
GRAND JUNCTION
Counties: Delta, Eagle, Garfield, Grand, Gunnison, Mesa, Moffat, Montrose, Ouray, Pitkin, Routt, & San Miguel
Address:
518 28th Road Suite #B-104B Concord Plaza
Grand Junction, CO 81501
970-256-1382 office
866-700-2924 fax
LOVELAND
Counties: Larimer, Logan, Morgan, Weld, & Yuma
Address:
150 E. 29th Street, Suite 235
Loveland, CO 80538
970-419-4362 office
866-699-3015 fax
PUEBLO
Counties: Chaffee, Fremont, Lake, Lincoln, Park, Pueblo, Saguache, & Teller
Address:
517 W 5th Suite 106
Pueblo, CO 81003
719-535-9012 office
866-701-8213 fax
TRINIDAD
Counties: Alamosa, Archuleta, Baca, Bent, Conejos, Custer, Huerfano, La Plata, Las Animas, Montezuma, Otero, Prowers, & Rio Grande
Address:
136 W. Main St., #104
Trinidad, CO 81082
719-846-5935 office
866-682-4896 fax
MISSOURI
COLUMBIA
Counties: Adair, Audrain, Boone, Callaway, Howard, Knox, Macon, Marion, Monroe, Montgomery, Pike, Ralls, Randolph, Schuyler, & Shelby
Address:
3610 Buttonwood Dr. #200
Columbia, MO 65201
573-250-2128 office
866-702-2280 fax
SAINT JOSEPH
Counties: Andrew, Buchanan, Caldwell, Carroll, Chariton, Clinton, Daviess, DeKalb, Gentry, Grundy, Harrison, Holt, Linn, Livingston, Mercer, Nodaway, Putnam, & Sullivan
Address:
4420 South 40th Street
Saint Joseph, MO 64503
816-259-5292 office
888-317-2014 fax
WISCONSIN
FOND DU LAC Counties: Adams, Columbia, Dodge, Fond du Lac, Marquette, Washington, & Waushara Address: 258 South Main Street Fond du Lac, WI 54935 920-907-9898 office 888-406-8211 fax
KENOSHA Counties: Kenosha, Racine, & Walworth Address: 8600 Sheridan Road Kenosha, WI 53143 262-444-0935 office 888-340-8791 fax
LA CROSSE Counties: Buffalo, Crawford, Jackson, Juneau, La Crosse, Monroe, Pepin, Richland, Trempealeau, & Vernon Address: 205 5th Avenue S Ste. 426 La Crosse, WI 54601 608-615-1845 office 888-754-2238 fax
MADISON Counties: Dane, Grant, Green, Iowa, Jefferson, Lafayette, & Sauk Address: 101 Nob Hill Rd. Madison, WI 53713 608-286-1059 office 888-314-8172 fax
MILWAUKEE County: Milwaukee Address: 2514 S. 102nd Ste. 150 Milwaukee WI 53227 414-649-2640 office 888-340-8791 fax
RACINE Counties: Kenosha, Racine, & Walworth Address: 6214 Washington Ave. Ste. C-16 Racine, WI 53406 262-351-1800 office 888-340-8791 fax
RHINELANDER Counties: Florence, Forest, Iron, Langlade, Marinette, Oconto, Oneida, Price, & Vilas Address: 51A North Brown Street Rhinelander, WI 54501 715-362-0300 office 866-703-6713 fax
SPOONER Counties: Ashland, Bayfield, Burnett, Douglas, Pierce, Polk, Rusk, Sawyer, St. Croix, & Washburn Address: 522 Service Rd. Spooner, WI 54801 715-939-1400 office 888-747-2267 fax
WAUKESHA County: Waukesha Address: 134 Wisconsin Avenue Waukesha, WI 53186 262-899-6788 office 888-760-8470 fax
Seniors benefit considerably from SER SCSEP.
Ralph Acosta, Jr., a veteran and native New Yorker was recommended to the SER Senior Community Service Employment Program by a case worker at a patriot house he was staying at. From the Marine Corp to prison, Mr. Acosta has had many ups and downs but thanks to SER and the SCSEP, his life is finally on the right track. Mr. Acosta says the SCSEP has "given him the reason and the opportunity to become productive yet again." Albert Claveran, a veteran, who following his service started his own roofing company where he suffered a serious injury to his leg. His injury led to the closing of his business and left him in a wheel chair for four years. A friend recommended him to the SER Senior Community Service Employment Program, and now, Mr. Claveran says he has found "something to be grateful for."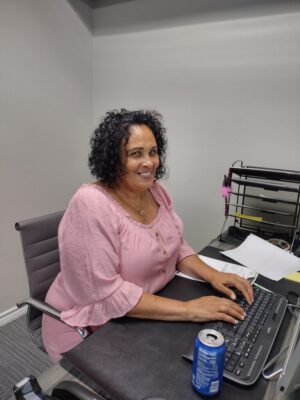 Lilith Radish enrolled in the SCSEP Program in 2019 and was excited to get started training. She is a very positive person and would always say have a great day on purpose. Ms. Radish started training at the Willie Carter Center but realized it was not challenging enough for her and asked to be rotated.  We then sent her to a Family Services Woman Shelter because she needed a host agency that was challenging and she could help others which she loves to do. After training there for a short time, we all agreed it was too fast-paced and she needed more computer training. Lilith found a free computer class and signed up at the library, and got rotated to a smaller shelter that was not so fast-paced. Soon the pandemic shut everything and the shelter closed. During that time Lilith stayed positive and tried to find herself a job.
Because of her past, it was hard for her to find a job, and of course the pandemic made it more difficult. Lilith is a recovering addict and has been clean for the last 13 years and likes to stay busy. Earlier this year, she asked to train at Legacy CDC, a local nonprofit in Port Arthur, TX. She started training there in the Spring and within two months she was offered a full-time position. 
Jacqueline Roberts is a proud mother of three, and is at the peak of her career. At the age of 63 years, I have broken generational barriers within the past four years thanks to the support of SER SCSEP. Her personal journey has brought of achievement along with a closer relationship with her faith by taking the chance to serve and provide great leadership within her community.
SER-SCSEP has given me the opportunity to train under greatness such as Dr. James Allen, an Educator and founder of The Knowledge -First Empowerment, Mr. Ivory May- Horn the founder of Launch Point Community Development and Bishop Roderick Johnson the founder and soul saver of New Beginning Church. These three names are just a few of the people who have inspired me to greatness, as well.  Training in these establishments have allowed me to harvest from what was already planted inside of me.
With the help of SER-SCSEP training and monetary support, she has not only received an Associate Degree in Substance Abuse and Mental Health but has also been offered a job with MTC as a Substance Abuse Intern at Pam Lyncher prison for men. She says without the persistence and the training from SER-SCSEP, this may have not been possible.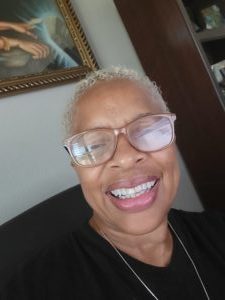 The Senior Community Service Employment Program is funded through the U. S. Dept. of Labor of the Employment and Training Administration as part of an award totaling $25,845,495  with 10% funded from non-Federal sources. The contents of this website do not necessarily reflect the views or policies of the U.S. Department of Labor.  If you are interested in this federally funded program and would like additional information, please contact us.