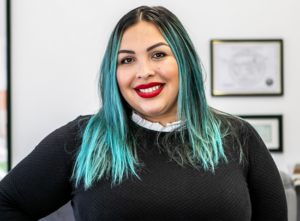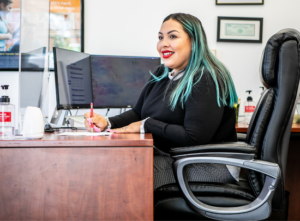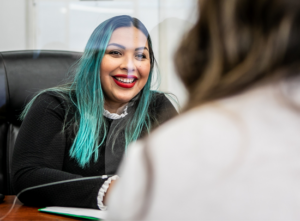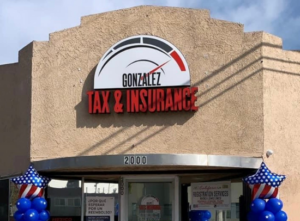 Brisa Cortina
Gonzalez Tax and Insurance Services
Speak with Brisa Cortina; what comes through quickly is her passion earned through life experience, sacrifice, and tireless striving for self-improvement. She is the product of her own making, driven by her quest to learn, be an example to others, and constantly aware that opportunities must be created, and when they do, she wants to be ready. This is where SER NEGOCIOS has become her strongest ally as she plans for her company's future.
"SER NEGOCIOS has been very helpful in assisting me in the city where my businesses are located to obtain the permits or licenses that I needed," says Brisa. "I know my business and my profession, but this is a very complicated process and takes time and money, which I must manage very carefully as a young company. I know this area is where many Latino-owned companies need help because the requirements involve things we do not know. I appreciate why SER NEGOCIOS is so important, and I tell them thank you."
Cortina's agency has been in business for four years, and she has seen and lived through many of the ups and downs a start-up can encounter. This time has passed quickly, and the challenges have included the need for suitable locations, hiring and training staff, and letting her community know of her services. All of these activities are essential. Brisa says SER NEGOCIOS will enable her to learn how to develop her time management skills and business plan priorities to achieve revenue and market share objectives.
"Every day, I try to make time for my self-growth, learning, and connecting with others who can help me expand what I'm doing more successfully," says Brisa. "I love to learn, and a big part of my responsibility to my company, employees, family, and myself is always to be aware of what else I can do to be even more successful. We come from families that did not have the business knowledge or experience to know how to invest our money, work it to make it grow safe and sound, and feel like you have the team around you to succeed. I am thrilled to have SER NEGOCIOS' guidance because we, as Latinos, often lack the knowledge or specialized education to possess the tools and be able to do more. Now, I can and will."
Cortina says that in addition to her business, she is very active and intentional about her involvement in her community. Part of this commitment as a role model and Latina entrepreneur comes from her life experience, which she candidly speaks about to others. SER NEGOCIOS promises to instill even greater self-confidence as Brisa looks forward to the program's training workshops, seminars, and networking opportunities. Also, her other motivator is her recollection of growing up without a clear path of where she would go. "Now that I am older, my family is significant to me, and my husband supports and helps me tremendously," says Brisa. "I'm a mom too, of four children, so having a balance is very precious in my life."
Brisa says she is very conservative in her fiscal decisions and explains that she never availed herself of the Temporary Payroll Protection (TPP) program for her business during COVID-19 out of fear of debt. She acknowledges that had she been in an SER NEGOCIOS training class, perhaps she would have known more about exactly how TPP worked and whether it was a good idea or not to apply for the grants. Today, she is using that experience to seek out all the knowledge she can acquire through SER NEGOCIOS to be better prepared for tomorrow.
"I think I would have taken advantage of that help and that opportunity, but I just did not know, and my concern was taking on any debt, which I did not want to do," says Brisa. "This is something my company missed out on, but thanks to SER NEGOCIOS, it will not happen again. They are very familiar with these programs, know how to apply properly to meet the requirements, and understand exactly how they work. I think when we try to do it without knowing, we risk making mistakes that could end up costing us dearly, and I don't want that," she adds.
Cortina looks forward to the mentorship of SER NEGOCIOS to opening additional locations, create jobs in her community, and provide services they need from individuals who care about them. She continues to lead empowerment events, works as a life coach, and endeavors to connect with and inspire other women. Brisa credits having a solid support team, and she is sure they will grow together by learning the management skills SER NEGOCIOS can impart.
"Being an entrepreneur is not just about the business," says Cortina. "SER NEGOCIOS is showing me that it is also about who we are as people and seeing ourselves differently, successful, and as role models for others. I want to pass forward the blessings that I am experiencing so that I can help someone else achieve their dreams. We are here to do this with our lives, and SER NEGOCIOS is allowing me to realize that purpose."