Entrepreneurship Session – "Access to Capital"
October 15, 2020 at 2:00 pm

–

3:00 pm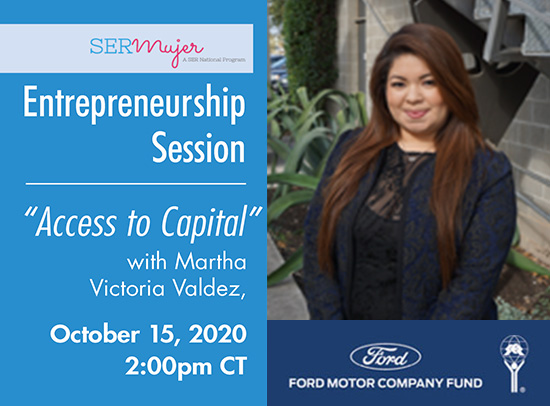 Join us for a SER MUJER Entrepreneurship Session with Martha Victoria Valdez.
Topic: "Access to Capital"
Date & Time: October 15, 2020 at 2:00pm CT
Click here to Register
A special thanks to our sponsor, Ford Motor Company Fund.

Martha Victoria Valdez Bio
Martha Victoria Valdez is the Senior Economic Development Officer for South Texas for Peoplefund. With over seven years of experience in the nonprofit lending industry, Martha is responsible for the implementation of financial education curriculums and business advising for both English and Spanish speaking business owners in South Texas.
Martha comes from an entrepreneurial family, therefore, understands the obstacles that the small business community faces. She is committed to help fellow Texans pursue the American Dream in her border town of Laredo and the rest of South Texas by providing business support and access to capital. She studied History with a concentration in Colonial America and minored in Business Administration at Texas A&M Intl University. Martha holds several positions in her community, such as: Commissioner for the City of Laredo Civil Service Commission, VP for the Webb County Young Political Organization, a member of LULAC and MileOne- Laredo's first entrepreneur co-working space. With joy in her heart, Martha Victoria looks forward to helping small businesses thrive in her region.



By registering for these events you are automatically signing up for our weekly newsletter. You can opt out of the email at any time.