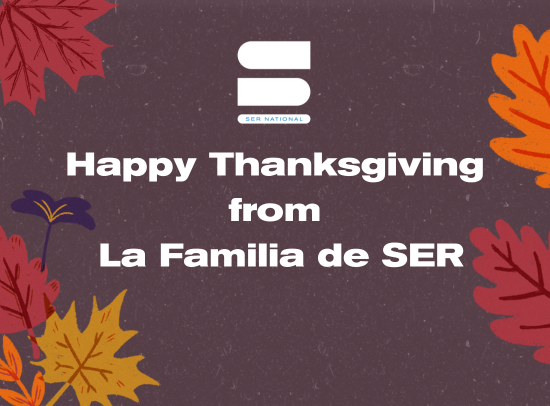 In the spirit of gratitude this Thanksgiving season, SER National and the SER Network of Affiliates express sincere appreciation for the dedication of countless individuals working together for the betterment of others. Ignacio Salazar, President and Chief Executive Officer, reflects on the remarkable achievements of the organization's people-centric family, including team members, program participants, and stakeholders.
"In these times of rapidly advancing technologies, including AI, we are still a people-centric family with amazing team members, eager program participants, and our vast family of stakeholders," says Salazar. "I am personally moved by this Thanksgiving as I see the generational advancement coupling the use of new technological tools and knowledge with the always-present human touch and the heart to serve. This is the enduring role of our wide array of community agencies and continues to be the pillar to our individual and collective success."
"Thanksgiving is an opportunity to appreciate how God-given human intellect, when applied in service to others, uplifts lives and improves our society," Salazar reflects. "Just think of how far we have come in understanding the evolution of harnessing machines and science."
The relationship between intelligent technology and workers has evolved significantly over time. Initially, technology replaced workers in dangerous, dirty, and repetitive jobs. Later, it was used to boost capacities and automate manufacturing functions. Today, technologies enable humans to become better individuals through the more intelligent use of time and lives, allowing teams to refocus on more purposeful endeavors.
"May we be mindful of each other this Thanksgiving," Salazar encourages. "And that we join hands daily as we advance into new frontiers, trusting that we can make our world better, in unity of purpose and vision. Happy Thanksgiving to each and all!"