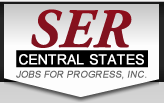 Central States SER (SER) is a workforce development and education organization that believes in the potential of each and every individual. Since our inception in 1987, SER has assisted thousands of marginalized and disadvantaged residents from across the City of Chicago and suburban Cook County in achieving their career and academic goals through quality employment, education and training programs.  
Central States SER, Jobs for Progress Inc., (SER) is a vibrant non-profit organization dedicated to designing and delivering services to improve the quality of people's lives and advance economic stability and growth among youth, adults and businesses in communities across Illinois. Established in 1987, SER has enhanced the lives of over 12,000 people annually who walk through the doors of SER seeking assistance through education, training and employment.
SER is part of the Unified SER Family, a multi-state organization led by parent organization SER Metro Detroit, with sites in Texas, Michigan and Pennsylvania.  This collective of organizations is ably led by a dynamic group of leaders, whose CEO & President,Eva Garza Dewaelsche, was recognized as a Champion of Change by President Obama for her leadership and the impact of the work done accomplished by the collective sites of the Unified SER Family.   
SER's Mission and Vison
SER's mission is to promote economic self-sufficiency and upward mobility for low-income community residents through education and employment.
SER believes in the core values of respect, integrity, competency and innovation.  SER is deeply ingrained in the communities it serves and believes in being part of the solution to the on-going challenges of economic and educational disparity facing families today. SER makes it a priority to meet the needs of the community by staying abreast of community and employment demands and changes in the population and in the local and broader economy.