SER STEM Community Day STEM Competition
May 21, 2021 at 3:00 pm

–

May 23, 2021 at 5:00 pm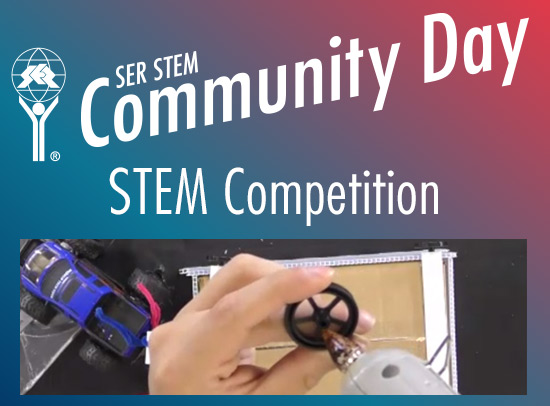 General guidelines and video submission guidelines for the SER STEM Community Day Competition:
General Guidelines:
All participants will be working independently.  Participants are expected to work alone with general guidance from an adult if needed
All participants will have an equal opportunity to showcase their creativity and abilities in all aspects of the competition, such as the assembly, operational abilities, and the production and recording of the video that will showcase the final product.
The final product must be functional and operational for it to enter the competition.
Only one video per student will be accepted.
The video must showcase how it operates and functions.  The design and assembly part of the project must not be included in the video.
The video must be 30 seconds or less in length. Videos longer than 30 seconds will be disqualified.
Video Submission Guidelines:
The video must be uploaded to Dropbox using this link https://www.dropbox.com/request/tk5dO9GxliW2zNeCVDH2.
The deadline for submitting the video is Sunday, May 23, 2021, by 5:00 pm CST.  Any video submitted before 3:00 pm CT on 5/21/21 will be disqualified.
No videos will be accepted past this deadline.
Please submit your videos with file name NAME GRADE CITY STATE. (Example: JoseHernandezHoustonTexas)
Once all videos are received, they will be reviewed and evaluated by the judges.  Winners will be announced during the STEM Talk on June 10.  First, Second, and Third place winners will receive an IPad, Laptop, or Tablet, respectively.
By registering for these events you are automatically signing up for our weekly newsletter. You can opt out of the email at any time.