Your Road Map for Your Success as an Entrepreneur
November 4, 2021 at 2:00 pm

–

3:00 pm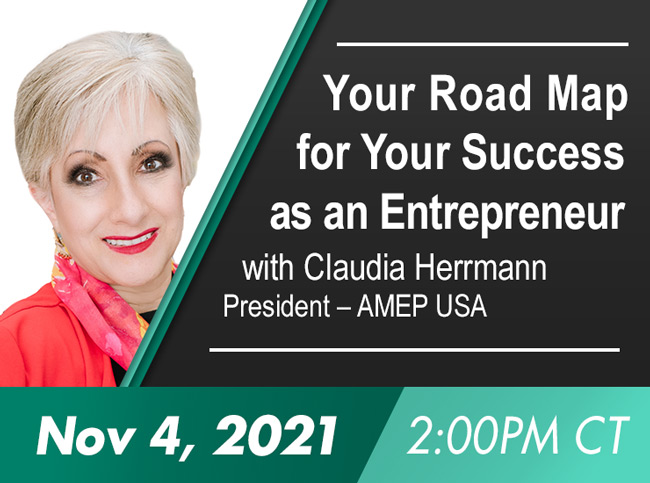 Join us for the webinar, "Your Road Map for Your Success as an Entrepreneur" with Claudia Herrmann, President – AMEP USA.
Learn the fundamentals of establishing your business plan: Analyze your whys, your opportunities & your potential market, what you bring to the table, and much more.
When: November 4, 2021 at 2:00pm CT
Click here to Register
About Claudia S. Herrmann
PRESIDENT – AMEP USA, CHAIRMAN– USA AMEP FOUNDATION
Claudia S. Herrmann, originaria de la Ciudad de México, es fundadora y presidente de la Asociación de Mujeres Empresarias y Profesionales (AMEP)y de USA AMEP Foundation.
AMEP es una organización 501(c)(6) formada en 2012 que reúne a mujeres empresarias, profesionales y ejecutivas de habla hispana con el objetivo de fungir como plataforma para la proyección de la mujer latina en el plano empresarial y profesional. USA AMEP Foundation es una organización sin fines de lucro 501(c)(3) formada en 2015 con el objeto de brindar recursos educativos esenciales a familias hispanas para su éxito personal y empresarial, tales como educación financiera, superación personal, aspectos legales de negocios, mercadotecnia, herramientas de productividad, etc., apoyando con educación a quienes desean formar su propia empresa o hacer crecer su negocio.
En México, es abogada especialista en franquicias y empresas de distribución. Es coach certificada por Wainwright Global y brinda asesoría y coaching en materia de negocios. Se dedica a asesorar a empresas y personas en cuanto a negocios, comercio internacional, contratos y propiedad intelectual e imparte conferencias, cursos, talleres y seminarios.
Continuamente imparte pláticas, cursos, seminarios y talleres en materia de negocios y crecimiento personal.
Fue columnista de los periódicos Al Día y El Hispano News, con una columna semanal titulada "En Perspectiva".  Además es conductora del programa "Frente a Frente: Encuentros Latinos" que se transmite a través de Facebook Live.
Es dueña de un negocio de arrendamiento de bienes inmuebles, de negocios de distribución de transfercéuticos y productos para la salud y de productos para el cuidado personal.
Claudia S. Herrmann was born in Mexico City and is founder of the Asociación de Mujeres Empresarias y Profesionales (AMEP). She is National Chair of AMEP and current CVO & Managing Chair of USA AMEP Foundation. AMEP is a national Latino business 501(c)(6) non-profit organization formed in February 2012 to promote Hispanic business and professional women. USA AMEP Foundation is a 501(c)(3) non-profit organization formed in 2015, which provides educational tools to Latina women who wish to start their own business, grow their existing business or simply wanting to achieve personal growth.
She is a lawyer licensed to practice throughout Mexico specializing in franchise and distribution law. She is a certified business coach and assists clients with their business, international trade, contracts and intellectual property, and gives conferences, seminars, courses, workshops and seminars. She is a continuous business and motivational speaker at conferences, seminars, courses and workshops. She is a former columnist of the Al Día Newspaper – the Spanish version of the Dallas Morning News and of the El Hispano News newspaper, where she had a column titled "En Perspectiva" ("In Perspective"). She is the hostess of the "Frente a Frente: Encuentros Latinos" radio show which transmits from Facebook Live.
She is owner of a commercial real estate, as well as of a transferceutical, health and body care products distribution business.
www.amepfoundation.org | www.amepusa.org | www.amepdallas.org | www.amepaustin.org
By registering for these events you are automatically signing up for our weekly newsletter. You can opt out of the email at any time.