STEM TALK with Joe Acaba, NASA Astronaut
February 11, 2021 at 3:00 pm

–

4:00 pm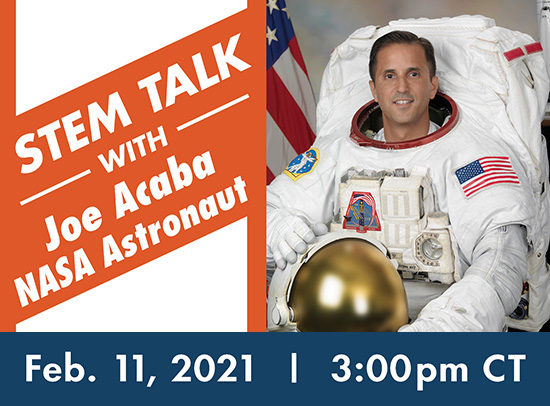 Join us for a STEM TALK with Joe Acaba, NASA Astronaut!

Date & Time: Feb. 11, 2021 at 3:00pm CT
Click here to register!

Joe Acaba Bio
Joseph M. Acaba was selected by NASA in 2004. The California native has logged a total of 306 days in space on three missions.  In 2009, Acaba flew aboard STS-119 on the Space Shuttle Discovery to the International Space Station to deliver the final pair of power-generating solar array wings and a truss element.  During this mission, he conducted two spacewalks.  In 2012, Acaba flew aboard a Soyuz spacecraft to the space station where he worked as Flight Engineer for the Expedition 31/32.  During this mission, the first commercial resupply spacecraft, SpaceX Dragon, arrived at the station.  Acaba recently served as Director of Operations Russia in Star City supporting crew training in Soyuz and Russian Segment systems. Acaba most recently served as Flight Engineer on the International Space Station for Expedition 53/54.
By registering for these events you are automatically signing up for our weekly newsletter. You can opt out of the email at any time.