1 event,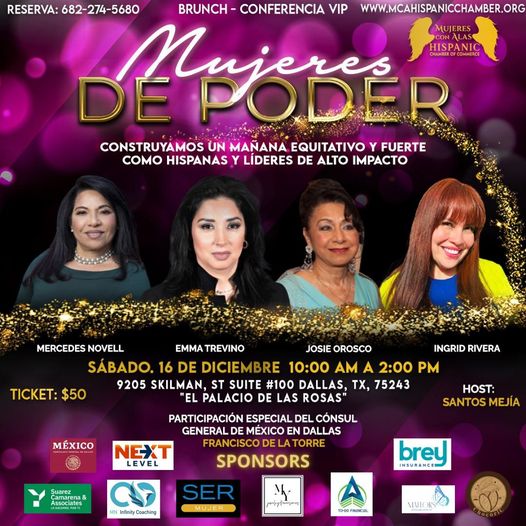 ¿Quieres salir de tu zona de confort y no sabes cómo? ¿Deseas vivir de tu emprendimiento pero no sabes cómo empezar? ¿Quieres tener una mentalidad de dinero y ser dueña de negocio?
¡Llega este 16 de diciembre a Dallas una conferencia VIP para inspirar y fortalecer a la mujer hispana!
Conoceremos la historia de 4 mujeres exitosas, que hablarán de liderazgo; mindset, negocios , fe, resiliencia y más. A través de un panel de discusión, nos darán herramientas y estrategias efectivas que levantaron su negocio y vida profesional hasta convertirse en MUJERES LÍDERES DE ALTO IMPACTO
Tendremos la Participación especial del Cónsul general de México Francisco de la Torre , invitados especiales y premios sorpresas para los asistentes
¡Pasa una mañana conectando con MUJERES DE PODER. ELEVA tu voz, ROMPE las barreras de tu mente y construyamos un mañana equitativo y fuerte como Hispanas .
Solo 50 espacios del brunch en el cual estarás participado por premios y muchas sorpresas más
Ticket miembros $50
General $55
También puedes ser Sponsor, exponer tu servicio y Ser patrocinarte oficial de "MUJERES DE PODER"
Sponsor miembro $100
Sponsor general $120
Reserva al 682-274-5680
Evento organizado por Mujeres con Alas Hispanic Chamber of Commerce
By registering for these events you are automatically signing up for our weekly newsletter. You can opt out of the email at any time.