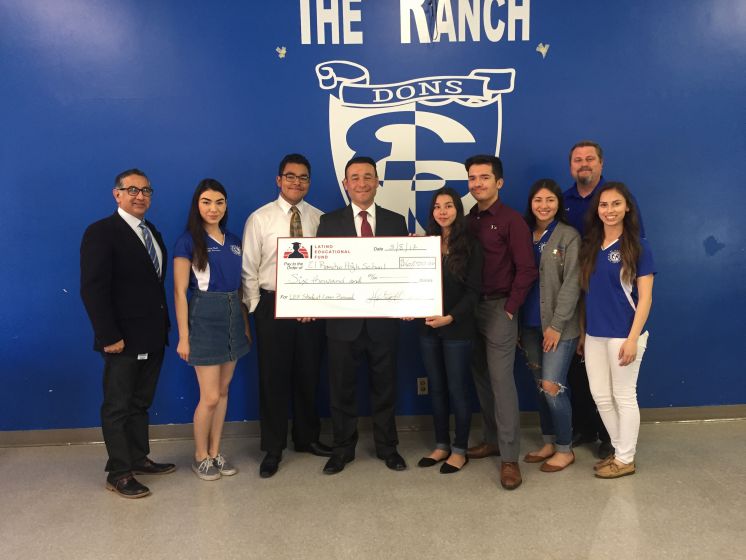 LEF ANNOUNCES PILOT "STUDENT LOAN BOARD " WITH EL RANCHO HIGH SCHOOL
Heberto M. Sanchez. President/Founder of LEF and Principal Jonathan Lyons of El Rancho High School have agreed to launch a forward thinking out-of-the-box, pilot program that promises to advance high school students' financial literacy at El Rancho High School located in Pico Rivera. It's called the Student Loan Board Program.
"This is a unique opportunity for our students to learn about how lending works through LEF's hands-on student loan program, said Principal Lyons. "We congratulate LEF for its forward thinking that aligns with El Rancho's mission to prepare students to be college and career ready."
"We're extremely excited that Principal Lyons has taken this first step towards providing El Rancho High School with a program that seeks to advance students' financial literacy," said Mr. Sanchez.
How It Works
LEF will provide a three-year grant for $2,000 per year, up to a maximum of $6,000. The funds will be managed by El Rancho's Student Loan Board for the purpose of lending money to fund student projects.  The Student Loan Board administers the loans for school programs. The loans would help supplement athletic programs, clubs, or student projects. The loans are then repaid with interest by each program's fundraising activities. The goal is to allow students to receive firsthand experience about how the lending process works from a bank's standpoint. The Student Loan Board would function like a bank board of directors.
LEF'S 2017 Scholarship is open for filing. Interested students must register before applying for a LEF Scholarship. Click on the scholarship Apply button on LEF's home page and complete the questions then submit requested documents including an essay. Awardees will be announced in late May 2017.
LEF Founder & President appointed to California Organized Investment Network Advisory Board.
LEF announces the appointment of it's Founder & President, Heberto M. Sanchez, to the California Organized Investment Advisory Board by California Speaker of the Assembly Anthony Rendon.
LEF congratulates Mr. Sanchez on his appointment.
LEF Board Chairman Servando Ornelas appointed to California Structural Pest Control Board.
LEF congratulates it's Board Chairman, Servando Ornelas for being appointed to the California Structural Pest Control Board (SPCB).
Mr. Ornelas was appointed to SPCB by Senate President Pro Tempore Kevin De Leon.
LEF – Zero Interest Micro Loans
LEF now provides Zero Interest Micro Loans ranging from $250 to $1,000.
For more information please visit www.thelatinofund.org