Education Session – Dr. Robert Garza
January 21, 2021 at 2:00 pm

–

3:00 pm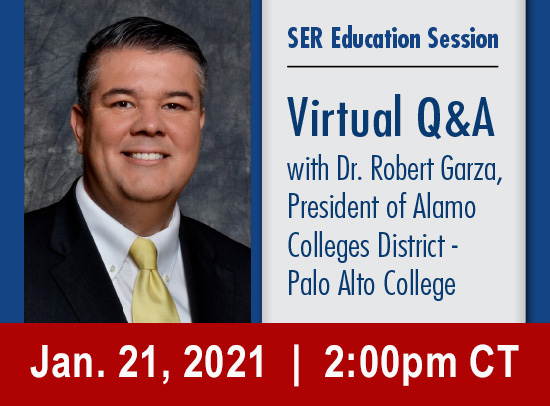 Join us for an virtual Q&A with Dr. Robert Garza, President of Alamo Colleges District – Palo Alto College.
Date & Time: Jan. 21, 2021 at 2:00pm CT
Click here to register!

Dr. Robert Garza Bio
Dr. Robert Garza was appointed as the seventh president of Alamo Colleges District-Palo Alto College on July 25, 2018, by the Alamo Colleges District Board of Trustees.
Originally joining the Alamo Colleges District in 1999, Dr. Garza held several positions during his tenure at Palo Alto College, including Dean of Community Development and Partnerships, Dean of Student Success, and Vice President of Student Success.
Dr. Garza served as president of Mountain View College in the Dallas County Community College District from 2015 to 2018. Under his leadership, Mountain View College achieved a 29 percent record enrollment growth for a total of 11,586 credit students enrolled.

By registering for these events you are automatically signing up for our weekly newsletter. You can opt out of the email at any time.