Rosy Escalante graduated from Dallas Can Academy Pleasant Grove in June 2019. She is the first one of four children to attend college.  Rosy enrolled for fall classes in El Centro College where she will seek to attain her Associate's degree.  She will then transfer to North Texas State University to work on her teaching degree.  She wants to have a positive impact on the lives of children the way teachers have made a difference in her life.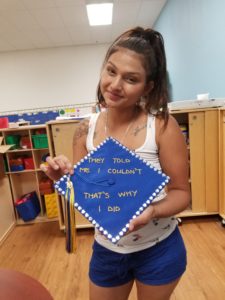 Her grandmother raised her.  Rosy stated that  while she lived with her grandmother, relatives told her not to waste her time in school because she was just going to end up being a "nobody" like other members of her family.  She did not let anyone deter her from her lifelong dreams of going to college.
While attending Dallas Can High School, Rosy wanted to be an active parent in her son's life.  She frequently volunteered at the Early Head Start Center.  She ran for President of the Parent Committee and won.  Angel Lira, her son, loved having his mom volunteer in the classroom.
This summer Dallas Can High School hired Rosy to tutor students during the summer.  She did an excellent job, so she will continue to work this coming year as a tutor while attending college.
Rosy decorated her graduation cap with this statement for all to see "They Told Me I Couldn't ", That's Why I did".  She will also decorate her college graduation cap with the same words.  We are all very proud of Rosy Escalante and her winning attitude.