Since 1971, La Alianza Hispana has been an icon of Latino leadership, consistently serving as a portal to hope for well over 30,000 Bostonians. As a hub of social service delivery, advocacy, and education, the organization has changed the landscape of community resources and improved many lives.
One of these lives was that of Nydia Mendez. Read her story below, and visit www.laalianza.org for additional stories of success.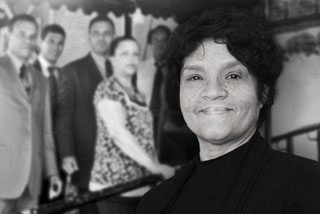 The Journey is Everything.
For over 41 years, La Alianza Hispana has been a starting point for many leaders in Boston's Latino community.
---
La Alianza Hispana launched in 1970 with the vision and determination of community organizers/ teachers, Ana Maria Rodríguez and Betsty Trage.  Inspired to change the reality of the impoverished Latino students they were seeing in their classrooms, Ana Maria and Betsy rallied the community to respond to the growing socio-economic challenges facing the Latino community. They made a strong case for support.  By providing education and culturally appropriate family support, Latinos could and would thrive in Boston.
Once La Alianza Hispana's doors opened, the Mendez Family entered with big dreams.  Nydia Mendez, tells her story.  "We came to Boston to study. My mother was an elementary school teacher in Puerto Rico and my father was a construction worker. When we arrived in 1968, the only jobs available for my parents were in the factories producing war supplies. My parents worked incredibly hard and struggled with learning English and teaching us English as well.  They knew that in order to get ahead and realize their dreams, we all needed better educational opportunities. My mom is the one that enrolled the whole family in La Alianza Hispana in 1970.  It became the lighthouse for our family.  It was a safe place where we learned and connected with others who understood our struggle and our dreams."  Frieda Garcia, a La Alianza Hispana founder and the agency's first executive director, had a profound impact on the Mendez Family.  "She was such a role model for me.  Frieda inspired all of us to get involved and take responsibility for ourselves and our community" shared Nydia.
Nydia and her brother were enrolled in La Alianza Hispana's summer camp program while her parents took English classes. During high school, they both became peer leaders in the after school program.  Nydia went on to earn a degree in education from Boston University.  She launched her career as an educator in the Boston Public Schools. Over the last thirty years, she has taught at the elementary, middle, and high school levels and has worked as a principal and an administrator. Nydia was the first Puerto Rican and Latina to become a school principal in Boston.  She has also been involved in governance over Boston Public School's bilingual education initiatives.
Today, Nydia is serving as the Program Director for English Language Learners for the Pilot Schools Programs, a division of the Boston Public Schools Department. On occasion, Nydia returns to La Alianza Hispana to organize Latino parents and engage them in bilingual education programs.  She knows the power of a helping hand.  She sees the impact access to education has on the whole family.  She hears the stories of successful Latino family who mirror her own experience.  She also understands the importance of giving back to the community that makes dreams a reality.