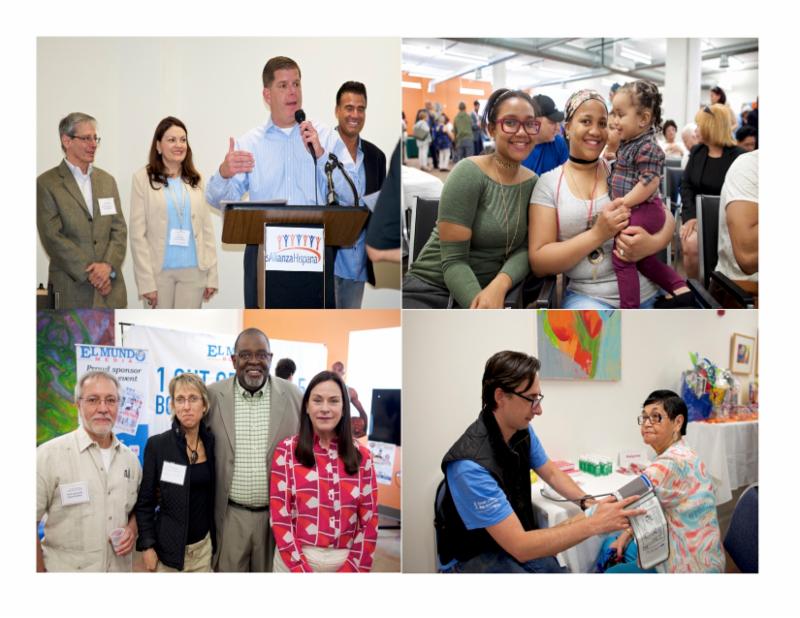 Dear Friends,
What a way to begin La Alianza's next chapter in our new location! On May 20th over 400 community members, 20 event sponsors, 30 in-kind donors and local businesses joined us to fill our new space with love and encouragement. Many generations of La Alianza supporters were standing with us, including our intrepid founder, Frieda Garcia. Frieda's vision 45 years ago still guides and grounds us today–La Alianza is here to improve the lives of Latinos and other communities every day.
We were honored to witness a moving speech from Mayor Marty Walsh; a call to action from our lead sponsor Guardian Health's CEO, Jose de la Rosa; a beautiful bilingual message of support from Secretary Alice Bonner of the Executive Office of Elder Affairs for the Commonwealth of Massachusetts; family caregiver testimony from Fernandito Bosa (El Mundo Boston and El Planeta Media Boston) and Rafael Torres (President of Don Quijote Tours); as well as a deeply moving blessing from Pastor Samuel Acevedo of Congregación León de Judá. The always vibrant Alberto Vasallo III, President and CEO of El Mundo Boston, served as Emcee, making this a truly special event. The energy from this event will fuel our work in the future!
We want to extend our gratitude to our wonderful in-kind donors, local businesses and community partners. Boston Police Department's Ice Cream Truck served up some yummy fun; City Fresh Foods, El Oriental de Cuba, Fair Foods, Olive Garden, Stop & Shop and Yely's Coffee Shop fed 400 with nutritious and culturally appropriate food; Perfectly Balanced Life and Yvette Cajigas were on hand for yoga, massage and relaxation; Walgreens provided health screenings; Gian Carlo Buscaglia and The Latin Swing Group entertained us; and SnapChef, Year Up and many of our sponsors were on hand to talk about educational and job opportunities in our community.
I'm happy to share with you that we exceeded our goal of raising $45K for our 45 years! Please scroll down to see the list of our generous sponsors. Every dollar raised will go directly to support our mission of providing advocacy, education, social and public health services to Latino and other communities in Greater Boston. With the ongoing commitment from our supporters, our doors will welcome people-in-need today and for the next 45 years.
Thank you for standing with La Alianza Hispana.
With heartfelt thanks,
Marisol Amaya-Aluigi
Executive Director