STEM TALK with Humberto Barreda of Honeywell-UOP
April 15, 2021 at 3:00 pm

–

4:00 pm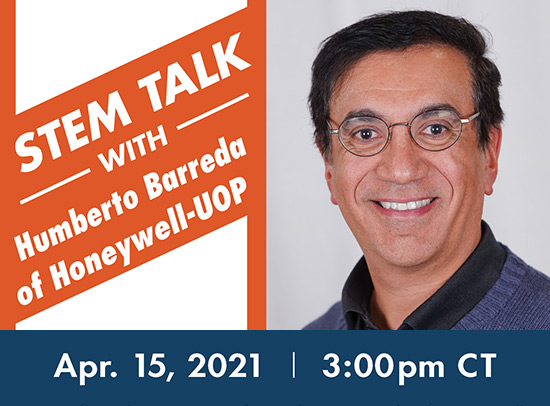 Join us for a STEM TALK with Humberto Barreda of Honeywell-UOP!
Date & Time: April 15, 2021 at 3:00pm CT
Click here to Register
Humberto Barreda Bio
Honeywell/UOP
Sr Lead Project Manager
Company leader in technology for the treatment and refining in the gas, oil, and petrochemical sectors. Complete solutions covering planning, design, equipment supply and start-up.
Project Management execution for domestic large gas process technologies. Project coordination, support to the sales, business and execution teams for new capital equipment and turnkey projects including global engineering and design, equipment fabrication, installation and construction related activities.
Coordination of technical scope review, customer interphase with engineering disciplines, logistics, QA/QC, material supply chains, development of execution strategy. Review of schedules, scope  and base lined cost, contract review, risk analysis including MonteCarlo and business analytics. During execution phase, main liaison with customer, engineering and manufacturing groups.
Project close-out and lessons learnt analysis.
Achievements
Coordination and implementation during planning phase of the several modular gas processing and CCR Projects.
Coordination of the Material Supply Chain for a large size project for a domestic customer.
Material supply chain management for a large modular gas processing plant.
Business development of several lump sum projects (LSTK) for gas processing plants in USA and abroad.
Successful coordination of virtual team across USA and in several parts of the world.
By registering for these events you are automatically signing up for our weekly newsletter. You can opt out of the email at any time.