STEM TALK – Dr. Virginia Counts of Medtronic
March 11, 2021 at 3:00 pm

–

4:00 pm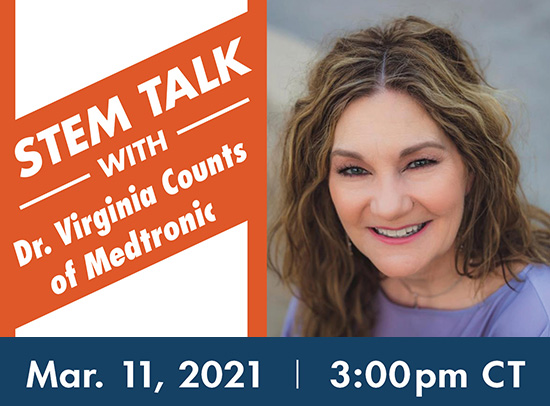 Join us for a STEM TALK with Dr. Virginia Counts, a Sr. Program Manager for Medtronic.
Time & Date: March 11, 2021 at 3:00pm CT
Click Here to Register
Dr. Virginia Counts Bio
Alchemist  •  Strategist  •  Coach  •  Program Manager  •  Process Improvement Expert  •  STEM Advocate
I get joy out of organizing and creating strategies from ether, transforming chaos into order, and synthesizing disparate information.
These days, I am a Sr. Program Manager for Medtronic, where I manage teams across Operations groups manufacturing pacemakers, defibrillators, and associated leads. I work on the large, cross functional, super-visible, hairy projects that most others shy away from. My early career provided challenging work as a Project Engineer building and testing gas turbine engines in the Aerospace industry. I then spent a decade in process improvement; certified as a Lean Manufacturing Expert, and Six Sigma Master Blackbelt, helping teams improve processes and provide significant savings.
Passionate about getting more women in engineering, I am a Fellow of the Society of Women Engineers and spent a decade on the SWE Board of Directors culminating with the role of President in 2009. Recognized as one of the most "48 Intriguing Women of Arizona" in a book celebrating Arizona's 100th anniversary as a state.  Based on MDT's Tempe Campus, I live in Phoenix and enjoy hiking nearby with my slightly neurotic but energetic miniature schnauzer, Princess Sophia.
Education
BSE, Mechanical Engineering, Arizona State University
MSE, Industrial Engineering, Arizona State University
PhD, Sustainable Engineering, Arizona State University
By registering for these events you are automatically signing up for our weekly newsletter. You can opt out of the email at any time.