STEM TALK with Manny Sanchez, Lockheed Martin
October 13, 2020 at 2:00 pm

–

3:00 pm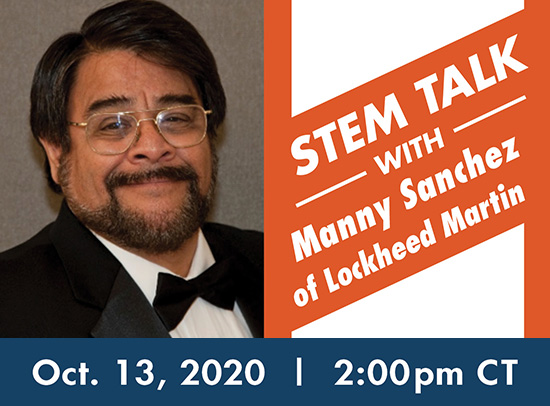 Join us for a STEM TALK with Manny Sanchez of Lockheed Martin.
Date & Time:
October 13, 2020
2:00pm CT
Click here to Register
Manny Sanchez Bio:
Manny is a Systems Engineer, Senior Staff for Lockheed Martin Aeronautical Company, Advanced Development Programs (Skunk Works) in Palmdale California and has over forty-eight years aerospace experience with Lockheed Martin.  Over the years he has worked on several programs and projects at Lockheed Martin and is currently assigned to the Tactical Systems Directorate.  Along with his engineering responsibilities he is a Lockheed Martin University Relations Campus Recruiter and attends select universities and national events where he represents Lockheed Martin for the purpose of interviewing and recruiting the best possible future graduates for employment.  As a Lockheed Martin Corporation speaker, he presents lectures, modules and workshops on professional development and engineering topics at LM Corporate supported universities, national and Non-Profit events.
Manny was born in Los Angeles, California and attended Los Angeles Unified School District schools where he got his K through 12 education from local schools in the Los Angeles area.  He received his BS in Manufacturing Engineering from the University of California, Los Angeles (UCLA) and advanced professional designations in Manufacturing Engineering Planning and System Engineering from the Skunk Works Technical Institute at Lockheed Martin.
By registering for these events you are automatically signing up for our weekly newsletter. You can opt out of the email at any time.