Employment Session: What You Need to Know About Social Security
April 8, 2021 at 3:00 am

–

4:00 pm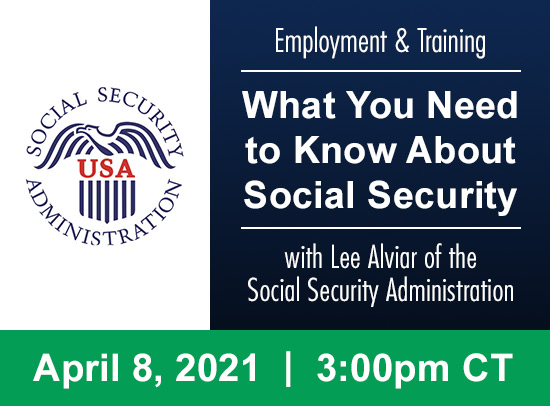 Join us for an Employment & Training Session with Lee Alviar of the Social Security Administration.
Topic: "What You Need to Know About Social Security"
Date & Time: April 8, 2021 at 3:00pm CT
Lee will provide an overview of SSA programs including Retirement, Disability, Survivors, and Medicare. Information will include eligibility, benefits, and alternative filing methods including online services.
Click here to Register
Lee Alviar Bio
Lee Alviar, a 30 year veteran with the Social Security Administration, first started as a claims clerk in Brownsville Texas and has worked through various levels of management. Lee was previously a Lead Training Instructor for 5 years training newly hired employees nationwide, and currently serves as a Regional Public Affairs Specialist over a 5 state area.
Lee has a Bachelor's of Science in Computer Science, a Master's degree in Business Administration, and a Doctorate of Management in Organizational Leadership. In addition to playing with computers, Lee enjoys working with the youth and has been a Board Member and trainer for TEDxYouth in Fort Worth for the past five years.
By registering for these events you are automatically signing up for our weekly newsletter. You can opt out of the email at any time.