The Legacy Leader as a Super Hero with Anthony Lopez
June 3, 2021 at 3:00 pm

–

4:00 pm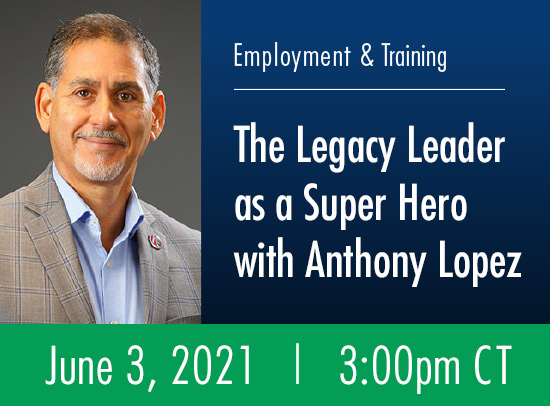 Join us for the webinar, "The Legacy Leader as a Super Hero" with Anthony Lopez.
Date & Time: June 3 at 3:00pm CT
Click here to Register

Anthony Lopez Bio:
Tony López is an experienced C-Suite and Board executive with a reputation as an inspirational, multicultural and bilingual leader.  López has a strong track record of success in global President level leadership positions in publicly traded companies with > $1Billion P&L responsibility. He is recognized as a strategic thinker and people developer with a proven record for bringing about positive and empowering change while driving breakthrough results.
López is a sought-after speaker and expert on leadership and management topics.  He has presented to audiences throughout the globe, and thousands of people have attended his presentations.  He is the author of"The Legacy Leader (1st and 2nd editions)", "Breakthrough Thinking: The Legacy Leader's Role In Driving Innovation","The Leader's Lobotomy: The Legacy Leader Avoids Promotion Induced Amnesia", "The Leader In the Mirror; The Legacy Leader's Critical Self-Assessment", "The Diversity Engagement Model: From Awareness to Action" (published in The Journal for Hispanic Business Research, October 2008), and "The Legacy Leader As Superhero: LEGACYWOMAN".
López is the CEO/Founder for L&L Associates, a Leadership & Management Consulting Firm.  He is Chairman-Emeritus of the Board of PROSPANICA and served on the PROSPANICA Foundation Board until December 2019.  He currently sits as a member of the Executive Advisory Board for NexPhase Capital, a New York City based Private Equity Company.  He also serves on the Board of Advisors for MAS Global Consulting, Inc. and CulturIntel, Inc.
He began his professional career as a military officer and served as a Captain in the Air Force.  He joined Johnson & Johnson in 1991.  While at J&J he held leadership/GM positions in Engineering, Operations, Sales, and Marketing.  He also served as Chairperson for the Hispanic Organization For Leadership & Achievement.  From 2009 to 2011 he was the GM for Respiratory Systems in CareFusion, and from 2011 – 2017 he served as President, Ansell Healthcare. In 2017 he was named CEO & Managing Director of AZZUR GROUP.
López holds a BS in Electrical Engineering, an MS in Engineering Management, and is a graduate of the Department of Defense Equal Opportunity Management Institute. He is a member of the Latino Corporate Director's Association and the National Association of Corporate Directors where he holds the Governance Fellow designation.
Linked-In
www.legacyleader.net
By registering for these events you are automatically signing up for our weekly newsletter. You can opt out of the email at any time.