STEM Talk with Dr. Larissa Aviles-Santa of NIH
June 10, 2021 at 3:00 pm

–

4:00 pm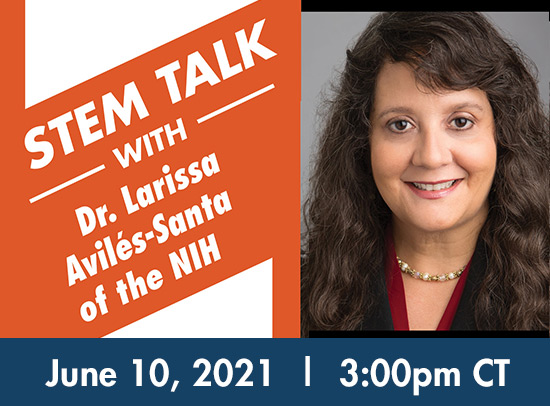 Join us for a STEM TALK with Dr. Larissa Aviles-Santa of the National Institutes of Health (NIH).
Date & Time: June 10, 2021 at 3:00pm CT
Click here to Register
Larissa Avilés-Santa, M.D., M.P.H.
Dr. Larissa Avilés-Santa is the director of the Division of Clinical and Health Services Research at National Institute on Minority Health and Health Disparities (NIMHD) at the National Institutes of Health (NIH). In her current role, she works with her great team on fostering high-quality research towards improving health outcomes of populations with health disparities and within the context of health care settings and systems.
From 2006 to 2019 she was the National Heart, Lung, and Blood Institute (NHLBI) project director for the Hispanic Community Health Study/Study of Latinos, the most comprehensive study on Hispanic/Latino health in the United States to date. The study takes place in four U.S. cities, has followed over 16 thousand participants of Hispanic/Latino descent, and has been fundamental and increasing our understanding of health and health care similarities and differences among people of diverse Hispanic/Latino heritage groups.
Dr. Avilés-Santa has participated in multiple NIH-wide committees and working groups addressing minority health, diabetes mellitus and its complications, women's health, and vascular dementia. In 2015, she founded the NIH Hispanic Health Research Scientific Interest Group. She has coauthored multiple publications on different Hispanic/Latino health topics, has served as a journal reviewer and guest editor, and is a frequent guest lecturer at diverse academic and scientific venues within and outside of the NIH. In 2015, she was recognized by the American Association of Clinical Endocrinologists with the Outstanding Service Award for the Promotion of Endocrine Health of an Underserved Population. She is a member of the Board of Directors of the Puerto Rico Consortium for Clinical Investigation and an advisor to the Advanced Center for Chronic Diseases in Santiago, Chile.
In 2017, Dr. Avilés-Santa was the field coordinator of the post-hurricanes Irma and María recovery of the health and social services of the entire country of Puerto Rico during the first six and a half months of work coordinated by the U.S. Department of Health and Human Services. She had the opportunity to lead a diverse group of volunteer federal employees and local contractors in the performance of needs assessments of healthcare and social services facilities and the proposal of recovery strategies.
Dr. Avilés-Santa earned her medical degree from the University of Puerto Rico School of Medicine, and completed a residency in internal medicine at the University Hospital in San Juan, and a fellowship in endocrinology at the University of Texas (UT) Southwestern Medical Center. She also earned a Master's degree at the UT School of Public Health.
By registering for these events you are automatically signing up for our weekly newsletter. You can opt out of the email at any time.