STEM TALK – Monique Velásquez of Chevron
December 8, 2020 at 2:00 pm

–

3:00 pm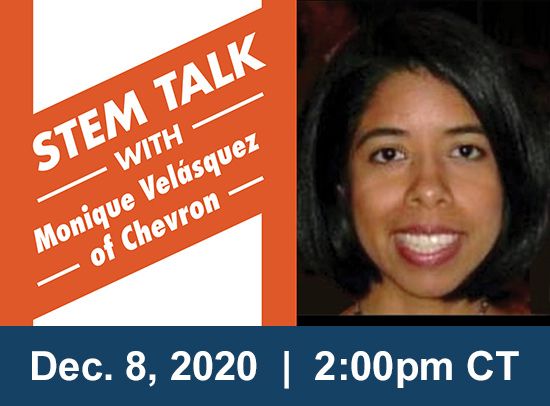 Join us for a STEM TALK with Monique Velásquez of Chevron!
Date & Time: Dec. 8, 2020 at 2:00pm CT
Click here to register!
We will be announcing the winners of the #SERChallenge2020 during this webinar.

Monique Velásquez Bio:
Monique Velásquez was born and raised in New Orleans, LA to Colombian parents. She joined Chevron in 2004 as an Exploration Geophysicist for their Texas and Alaska North Slope US assets. She currently serves as the head of the Global Exploration Review Team – Houston, TX.
Throughout her career Monique has gained broad technical and business experience of increasing responsibility. She has held roles across Chevron's corporate business segments focused in North America, West Africa and the Technology Center, where she worked in technical earth science, organizational capability and strategic planning.  In her current position, she serves as the head of the Chevron's corporate assurance group responsible for assessing the risk and size of the company's global exploration portfolio. She is also part of Chevron's executive Exploration Leadership Team responsible for setting the company's global Exploration strategy.
Monique is an active member of Chevron's Women Executive and SOMOS (Latin American and Hispanic) employee networks which promote STEM, internal and external mentoring and diversity and inclusion in the workforce.
Monique has a B.S. degree in Geology from the University of New Orleans and a M.S. in Geophysics from the University of Texas El Paso. In her career, Monique has lived and worked in multiple locations such as Midland, TX, Lafayette, LA and Houston, TX.
When outside of work, she enjoys watching international soccer games, classic comedies, reading fiction, international traveling and spending time with family.
By registering for these events you are automatically signing up for our weekly newsletter. You can opt out of the email at any time.